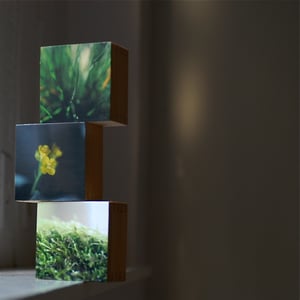 $

30.00
3 small blocks.
3 small photos.
A set of Green and Yellow Nature photographs.
Original photographs (taken by me) are carefully mounted on gorgeous natural wood blocks and sealed with layers of high gloss non-toxic varnish, leaving a slightly textured surface creating an organic look.
The small wooden blocks are 3.25" x 3.25" x 2.
LittleBlocks are self mounting, hang them from a thumbtack, small nail or stack them on your desktop. The perfect small square.
Copyright Ryan McAbery 2008 All rights reserved
Stumble It!